John William Tetley
Personal History
John William Tetley was born on the 10th of January 1892 and Baptised at Great Horton Parish Church on February 17th of the same year. At the time his parents William, a Dyer, and Annie resided at 62, Haycliffe Road.
By the time of the 1901 Census, 9 year old John Willie was recorded as with his paternal grandmother at 40 Smith Street, Great Horton. Ten years later the 1911 Census reveals that he was living with his parents and six other siblings, at 6 Grain Street off Haycliffe Hill Road, Great Horton. He is described in the 1911 Census as 19 years of age, single and a Dyers Labourer.
Rugby History
John Willie Tetley was signed by the Bradford Northern the 30th December 1913 From Northern Juniors.
He played his first game for the first team on the 25th of December 1914 as a second row forward, at home to Rochdale. He went on to play 20 more games for the club before that season in various positions in the pack. He was still on the register of players for the 1915/16 season making 8 appearances.
| | | | | |
| --- | --- | --- | --- | --- |
| Season | Appearances | Goals | Tries | Points |
| 1914/15 | 13 | 0 | 1 | 3 |
| 1915/16 | 8 | 0 | 0 | 0 |
| Totals | 21 | 0 | 1 | 3 |
On the 4thof March 1916 the Yorkshire Sports reported that he had joined the colours but had still turned out to play for the team.
The Bradford Roll of Honour reveals that John William Tetley joined the 5th West Yorkshire Regiment on the 5th of April 1916
Service History
Although his record of service has not survived his medal index card shows that Private 202319 JW Tetley received the Victory and British medals and was discharged from the army on the 14th of October 1919.
Documents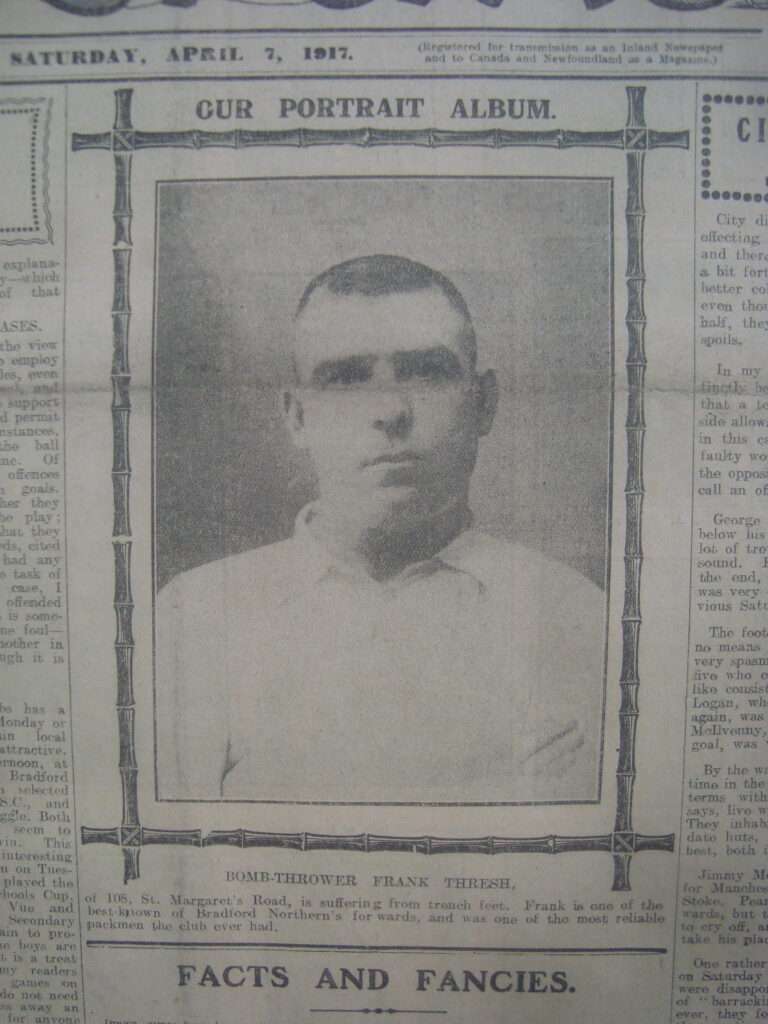 Frank Thresh
Personal History
Frank Thresh was born Frank Harker, in Bradford on October 27th 1879. His Baptism on November 4th 1880 records his parents as Benjamin and Annie Harker although his surname is shown as Thresh and his home is shown as 23, Banner Street, Bradford. By the time of the 1881 Census, Frank appears as resident at two addresses – At 12 Manor Fold with the Harker Family, and at 23 Banner Street, living with Thomas and Esther Thresh, where he is described as their Adopted son
In the 1891 Census, Frank is recorded as still living with Thomas and Esther at 110 Mount Street, Bradford and although he is still shown as their adopted son, 11 year old Frank's last name is now recorded as Harker. By 1901 Frank Thresh is a fruit salesman and still living with Thomas and Esther at 46 Percival Street, Bradford. The surname Harker has now disappeared and does not re-appear until later in his life.
On the 14th June 1906 Frank Thresh married Molly Ives and was residing at 108 St Margaret's Road, Bradford, and in 1911, and at the age of 31 he is recorded as a potato salesman, and head of his household, living with his wife and her widowed father.
Rugby History
Frank played his first game for Bradford on the 15th October 1904 at home to Halifax. Frank was playing in the forwards at No14 (the game still being 15-a-side)
After his initial season in 1904/05, when he played 23 times, Frank's first team appearances were few and far between until 1909/10 when he managed to play 28 games.
His last first team appearance playing at 12, was on October 1st 1910 away to Wakefield.
Playing Record
| | | | | |
| --- | --- | --- | --- | --- |
| Season | Appearances | Goals | Tries | Points |
| 1904/05 | 23 | 0 | 0 | 0 |
| 1905/06 | 2 | 0 | 0 | 0 |
| 1906/07 | 0 | 0 | 0 | 0 |
| 1907/08 | 1 | 0 | 0 | 0 |
| 1908/09 | 2 | 0 | 0 | 0 |
| 1909/10 | 28 | 0 | 0 | 0 |
| 1910/11 | 3 | 0 | 0 | 0 |
| Totals | 59 | 0 | 0 | 0 |
Service History
His time in the army may, perhaps, be described as colourful, and without intending any disrespect to Frank, some of the events are described below:
On the 24th of January 1916 at the age of 36, Frank enlisted in the army, enrolling in the Kings Own Yorkshire Light Infantry (KOYLI).
He was posted to the reserve but on the 28th August 1916, he was mobilised and the following day posted for training with the 1/5th KOYLI.
Frank's relationship with the Army did not always run smoothly, on the 29th of October 1916 he committed his first offence by overstaying his home leave from Clipstone Camp until the 31st October and was charged with that offence and the offence of 'Breaking into Camp'. He was absent for 46 ½ hrs. He received a punishment of 7 days confined to barracks and forfeited 3 days pay.
On the 13th of December 1916, he was posted to KOYLI base depot in France and soon found himself in the front line.
On the 29th of March 1917, he was admitted to number 7 Casualty Clearing Station suffering from Trench Feet and was subsequently sent home on Hospital Ship Newhaven to hospital in England.
Frank had another run in with the authorities whilst recovering and on the 21st of June 1917 failed to return from his furlough from Hospital finally coming back on the 25th having been absent for 4 days. For this infringement, he was fined 7 days loss of pay.
After spending a considerable period of time recovering, in August of 1917, Frank returned to his unit and by 12th of September having travelled via Folkestone to Boulonge he was back at base depot in Etaples in France and later transferred to 10th Battalion of KOYLI and on 30th September found himself back in the field.
His return to the trenches didn't last long as on the 4th of October 1917 he was wounded on duty receiving a shrapnel wound to his left cheek.
He returned to duty serving in France and on the 8th of February 1918 transferred to the 9th Battalion.
On the 26th of April 1918 Frank became a casualty once more. He later reported that he had received a bullet wound in his left arm while advancing during an attack. Frank also recorded that he had been an infantryman in France and Belgium for 14 months in total.
By April 28th 1918 Frank was aboard Hospital Ship Cambria in Boulogne bound for England to recover from his wounds.
On the 3rd of November 1918, he went absent without leave again by overstaying his draft leave. On this occasion, he gave himself up to the civilian police on the 16th of November 1918. The army took a dim view of this and sentenced him to 168 hours detention and he forfeited 13 days pay.
He was subsequently transferred to the Labour Corps and did not return to the front line. He was finally discharged from the Army on the 8th of February 1919.
He applied for a pension from the army because of his injuries but it was turned down as he appeared to be fully recovered.
Frank's name appears in the Bradford Roll of Honour. He was awarded the Victory Medal and General War Medal in 1921.
By 1939 Frank and Molly Thresh were residing at 3, Jer Lane, Bradford and he was still following his occupation of Potato Salesman (described as heavy work).
On the 12th of February 1958 Frank died at Thornton View Hospital, Clayton. The probate register records him as Harker or Thresh Frank
Thomas (Tommy) Town
Personal History
Thomas (Tommy) Town was born the fourth son to Joseph Henry and Jane Town in late 1888, and livedc with them at 2 Grangefield Villas, Stanningley. Little is known of his early life, but he joined Bradford Northern in 1910 and he was still living in the family home in 1911, and by that time he was employed as a house painter and decorator.
On 21st of January 1914 he married Clara Parker at St Paul's Parish Church, Pudsey. Their son George Henry was born on August 6th 1914.
According to the Register of Professional Rugby Players for 24th April 1915 Tommy Town was living at Ashfield Rd., Stanningley.
Tommy died, at the age of 73, on 31st January 1962
Rugby History
On April 20th 1910 Tommy first registered with Northern, having transferred from Stanningley. He went onto play 116 times for the club between 1910 and 1916/17. He was seen, predominantly, as a winger
| | | | | |
| --- | --- | --- | --- | --- |
| Season | Appearances | Goals | Tries | Points |
| 1909/1910 | 1 | 0 | 0 | 0 |
| 1910/1911 | 18 | 0 | 4 | 12 |
| 1911/1912 | 14 | 0 | 3 | 9 |
| 1912/1913 | 2 | 0 | 0 | 0 |
| 1913/1914 | 22 | 0 | 5 | 15 |
| 1914/1915 | 29 | 0 | 7 | 21 |
| 1915/1916 | 29 | 0 | 11 | 33 |
| 1916/1917 | 1 | 0 | 2 | 6 |
| Total | 116 | 0 | 32 | 96 |
Service History
Following the introduction of 'The Derby Scheme', Private 32443 Thomas Town attested for the army on the 11th of December 1915 joining the reserve of the West Yorkshire Regiment but was not called for service until the 31st of May 1916.
The 'Derby' scheme encouraged men to join the reserve to be called up if they were needed. Most were 'needed' very soon but whilst waiting to be called up wore an armlet to indicate that they had enlisted and to avoid negative comments about failing to serve their country.
At the time of attesting Tommy was described as 27 years and 2 months of age living in in Ashfield Road, Richardshaw Lane, Pudsey with his wife Clara and his son George Henry. He was 5'4" tall and weighed 122 lbs. He was a painter and decorator.
His time with the West Yorkshires was short and on the 25th July 1916 he was transferred to the Machine Gun Corps with the Regimental number 44212.
One month later on the 28th August 1916 he was sent to join the British Expeditionary Force in France. What happened in France is not known but one month after that on the 24th of September 1916 he was admitted to the Scottish General Hospital in Glasgow with a gunshot wound to his right hand.
He was discharged from hospital on the 24th October 1916 and after a short spell of leave re-joined his unit.
In 1917 Tommy found himself being posted to the 186th Company and between the 11th February and 22nd May was recorded as being en-route to Amara in Mesopotamia (modern day Iraq) joining his unit attached to the 36th Indian Brigade on the 4th of August 1917.
Within six weeks of arriving in Mesopotamia, Tommy was admitted to hospital; this was for skin issues caused by the conditions, rather than encounters with the enemy.
Whilst he was away he and his wife also suffered a personal tragedy with the death of his baby daughter Mavis Elizabeth, on 11th January 1918,) from bronchitis.
Tommy remained in Mesopotamia for the rest of the war, only leaving on January 3rd 1920. whilst en-route home, he was struck off the Mesopotamia Expeditionary Force and his army service ended.
Walter Townsley
Personal History
Born in Bradford in 1887 Walter Townsley went on to be a director of the Bradford Northern club, before becoming mayor of Morecambe in 1935. He lived in Morecambe until his death in 1952.
Rugby History
He was a director of Bradford Northern through at least some of the wartime years.
Service History
Walter Townsley didn't fight in the war, but he contributed by leading a group, in the club, who in 1915, successfully started sending out warm clothing to the players and ex players of the club, who were playing their active part in the war in Europe.
Documents
Arthur Turner
Personal History
Arthur Turner was born in Hyde, Cheshire in 1894 and according to the 1901 Census, at the age of 16 was employed in a coal mine in Swinton as a pony driver. By 1911 he had moved to Mexborough and was still in mine work. Sometime prior to 1914 he signed for Bradford Northern and subsequently moved to live in Bradford.
Rugby History
Although Arthur is not recorded as having played for the first team he was certainly on the club's register.
Service History
Arthur enlisted in the York and Lancaster regiment on 15 August 1913 and at 5.30 on 4th August they received the call to mobilise. They were based in Limerick and transferred to England on 15th August staying in camp at Granchester until they set off from Southampton on 8th September bound for France. The entrenched in Vailly west of Reims subject to snipper fire until they were relieved on 12th October just as the Germans started bringing in heavy shell fire.
The battalion were repositioned to the west of Lille however the "Maps provided found very difficult to follow and in places inaccurate." On the 18th October the order was given to advance and take Radinghem pushing on to take high ground. They took the village without difficulty but as they advanced further they came under heavy cross fire.
18th October 1914
Killed 13
Wounded 93
Missing 27
Total 133
Arthur was one of those killed in action, £6 11d was paid to his mother Rhonda Jane Turner who was residing at 20 Norcroft Brow, Bradford.
Bradford Northern were reported in the Yorkshire Evening Post of the 2nd December 1914 as saying "distressing news has just come to hand that two of our number Simpson (James) and Turner (Arthur) have been killed in action". "These players were never seen in the first team but they were on the Club's register and played on occasions with the reserve team".
Arthur's body was never found and in 1919 his name was included was included on the Ploegsteert Memorial in Belgium. He was posthumously awarded the Victory Medal, the British War Medal and the 1914/15 Star.
John Wilkinson
Personal History
John Wilkinson was born 4th child of Joseph and Mary Wilkinson of Keighley. The 1891 Census shows John, aged 9, living with his parents and siblings at 65, Thwaites, Keighley. There is no more history on John until his marriage to Harriet Ann Dresser of 4 Grouse St Keighley on 14th April 1900.
The 1901 Census shows John, Harriet and their son, Daniel (born in October 1900), living in the Dresser household at 4, Grouse Street, Keighley with five members of the Dresser family and one additional boarder. At this time John was identified as being employed as a painter of iron machines. In 1902 Harriet had her second child, and he was baptised on 8th November.
By the time of the 1911 Census John's family were living with four of Daniel Dresser's family and five of John Wilkinson's siblings at 21 Hanover Street, Keighley.
Rugby History
John played for Keighley, Keighley Zingari and Keighley Olicana before signing for Bradford for the 1907/8 season. He played only eight times for Bradford between 1907 and 1911
| | | | | |
| --- | --- | --- | --- | --- |
| Season | Appearances | Goals | Tries | Points |
| 1907/1908 | 5 | 0 | 0 | 0 |
| 1908/1909 | 0 | 0 | 0 | 0 |
| 1909/1910 | 2 | 0 | 0 | 0 |
| 1910/1911 | 1 | 0 | 0 | 0 |
| Totals | 8 | 0 | 0 | 0 |
Service History
On the outbreak of war John enlisted to serve as a Private in the 8th Battalion West Riding Regiment.
At the camp, in Witley, mobilisation orders were received at 4.30 on the 30th June 1915, Two days later they left camp and headed for Liverpool, then embarked on the SS Aquitania destination unknown.They ultimately reached their destination, having had two 'camp' stops on the way, at midnight on 6th August. That destination was the infamous Suvla Bay.
Early on the morning of 9th August, the order was given to advance, resulting in heavy and prolonged, fighting. It was 12th August, after a retreat to safer ground, before a roll call could be carried out, but at that roll call it was discovered the John Wilkinson was missing, and presumed dead.
Significantly later, and reported in the Yorkshire Post on November 2nd, a soldier in Hospital, in Alexandria, reported that he had seen John fall.
The Helles Memorial in Gallipoli is a monument to all those who fell in these battles ans sports their names.
Documents

Reverend John Thomas Williams MC MA VD
Personal History
Thomas John Williams was born on the 9th of May 1889 probably in Towyn, Merionethshire, Wales.
The 1891 Census reveals a Sarah Williams residing at 14, Boswell Street in Bootle, Lancashire, together with her sons Richard Morgan (4), Thomas John (2) and Edward Howell Wilkinson (9 months). Sarah and her two eldest sons are recorded as being born in Towyn but 9 months old Edward was born in Bootle. Sarah is shown as a Housewife but her husband is not recorded.
The 1901 Census records that Sarah continued to reside in Bootle together with her three sons but there is still no mention of her husband.
However, the 1911 Census reveals that, 61 years old Edward was also born in Merionethshire and was now living with his wife Sarah and two of his sons Richard and Edward in Bootle. Edward senior's none appearance in the two previous Census returns becomes obvious, as his occupation is revealed as Mariner. Thomas John, however by then, is no longer living with the family and searches of the Census for that year have failed to reveal an address for him.
It would seem, that around this time, Thomas had decided that his vocation was in the Church and in 1914 he became a Curate at Bierley in Bradford. He was ordained in 1915.
After the war he returned to academia, studying theology at Durham University where he received his MA in 1920. He was also the holder of a Licentiate in Theology.
From 1920 to 1932 The Reverend Williams held appointments in India serving as the Chaplain to the Kolar Gold Fields until 1923 and at Ooreguni in Mysore State until 1932. He returned to Bradford in November 1932 and took the incumbency at St Matthew's Parish Church. Described as Bradford's Sporting Parson, Thomas John Williams held annual Sportsmen's services at his church and representatives of every sport across the city attended. These services were so popular that in 1935 the congregation over spilled into the nearby Church Hall and the service was relayed by loudspeakers with microphones installed in the pulpit and at the bottom of the chancel steps. On this occasion, his sermon was entitled "Christianity and Athletics" and lessons were read by the Bradford Northern President, Mr C Raper and the MP for East Bradford and Club Director, Mr J. Hepworth.
In December 1951, the Yorkshire Post reported that the Venerable TJ Williams Vicar of Otley and now Archdeacon of Craven had entered the Claremont Nursing Home in Leeds suffering from a heart complaint. Stated to be making satisfactory progress he was not expected to resume his duties for about two months. The newspaper went on to report in February 1952 that he had left the nursing home and was going away for a period of convalescence and hoping to resume his duties in March.
The Reverend Williams still residing at the Vicarage in Otley, died on the 4th of July 1956 leaving £1501 6s 3d to his widow Ethel Marion.
Rugby History
Mr. Williams' interest, in particular, was Rugby, having played Rugby Union before coming North and he became an ardent Rugby League fan.
He subsequently became the Chaplain to Bradford Northern. The Reverend Williams went on to become a Director of the Club. In November 1936, he gave a talk at a gathering of the Wibsey Park Veterans Association on "Sport in Relation to Religion" and outlined his reasons for supporting Rugby League rather than Rugby Union.
In June 1938 at the Annual General Meeting, the Rev TJ Williams was thanked for his services to the club. Described as a former Director of the club he was made a life member.
The services by him to Bradford Northern are memorialised in one of the Foundation Stones in the wall of the club house, placed there in 1934 at the opening of the new ground at Odsal
Service History
At the outbreak of World War One Lieutenant and later Captain Williams became a Chaplain with the Services serving with various regiments but principally with the Duke of Wellington's Regiment and the Green Howards between 1915 and 1918. He was awarded the Military Cross in addition to the Victory and British Medals.
Joe Winterburn
Personal History
Joseph (Joe) Winterburn was born on October 15th 1883, the fourth child of woolsorter Joseph, and Olive Winterburn. The censuses of 1891 and 1901 show Joe living with his parents at 1, Saville Street, East Bowling.By 1911 Joe was living at 246 Bolton Road and was married to Esther. They had a 5 year old son Ernest. Joe, by this time, was working as a motor fixer on the tramways, for Bradford city council.
After the war he returned to Bradford and, in 1939, he is recorded as having the profession of Electrical Engineer.
Rugby History
Joe was recorded as playing rugby as early as 1904 (Leeds Mercury), and, on February 1st 1911, was reported to have joined Bradford Northern from Keighley. He played for Bradford Northern, with a break for the war until 1921. He was a valued and skilful forward with county appearances, who also captained the club for a time.
| | | | | |
| --- | --- | --- | --- | --- |
| Season | Appearances | Goals | Tries | Points |
| 1910/1911 | 10 | 0 | 0 | 0 |
| 1911/1912 | 28 | 0 | 2 | 6 |
| 1912/1913 | 34 | 0 | 11 | 33 |
| 1913/1914 | 29 | 1 | 5 | 17 |
| 1914/1915 | 10 | 0 | 3 | 9 |
| 1915/1916 | 0 | 0 | 0 | 0 |
| 1916/1917 | 0 | 0 | 0 | 0 |
| 1917/1918 | 3 | 0 | 1 | 3 |
| 1918/1919 | 3 | 0 | 0 | 0 |
| 1919/1920 | 21 | 0 | 3 | 9 |
| Totals | 138 | 1 | 25 | 77 |
Service History
On 24th November of 1914 the Bradford Daily Telegraph reported on the latest army recruit from the Bradford club, and this was 'Joe Winterburn the popular Bradford and county forward who has joined the Royal Horse Artillery and left Bradford on Tuesday for Newcastle'.
His army career saw him as acting Bombadier with C Battery 104 Brigade of the Royal Field Artillery and in a letter home reproduced in the Yorkshire Sports 12th of February 1916 he relates some of his experiences at the front, "I have been very lucky so far. I have had one or two lucky scrapes" He reports one incident which illustrates his bravery and the qualities that made him Northern's Captain, "The Germans had been sending a few shells over and set fire to a haystack. One of our wires (telephone) went on it and me and my mate went out to put a new bit in. The enemy could observe the stack burning and thinking there would be a party trying to put it out, sent across 8 shells in about two minutes." He continued, "One of the infantry men was caught by shrapnel. We cut his trousers off and bandaged him. I tied it tightly to stop the bleeding. I got him on my back and took him back to the trenches three fields away. They told me I had stopped the bleeding. I was covered in blood."
On the 14th of September 1916 the Gazette reported that he had received the Military Medal.
Sometime around this period he was wounded in battle and on the 14th of October 1916 the Yorkshire Sports reported that he was in hospital in Glasgow. His medal record shows that he served in France from 26th August 1915 to the 7th of October 1916. During this time the 104 Brigade of the RFA were serving in the Contalmaison area of the Somme.
On the 23rd December 1916 the Yorkshire Sports reported that he was back in Bradford having been invalided from France.
His military career saw him, in July of 1917, transfer from the Royal Field Artillery to the Military Foot Police with the rank of Lance Corporal.
Documents
Thomas Wormald
Personal History
Thomas Wormald was born in Bradford on 23rd October 1894 to Joseph and Ann Elizabeth Wormald. At the time of his baptism, in 1897, they were resident at 12, Lawrence Street, Bradford. His father was recorded as being an Overlooker.
By the time of the 1901 census the family were living at 9, Lucy Street, Great Horton, Bradford and by 1911 census, the 16 year old Tom Wormald is residing at 37 Lawrence Street, Princeville, Bradford with his six siblings and a 63 year old widow, Jane Tate, described as relative and housekeeper.
As a 20 year old, Tom signed for Bradford Northern on March 2nd 1915
On medical discharge from the army, in 1918, he was described as a Dyer's Labourer of 27, Worthing Head Road, Wyke
After the war, on 5th October of 1919, Tom married Annie Sutcliffe at Wyke Parish Church.
Rugby History
After signing for Bradford Northern on the 2nd of March, Tom played his first game of three, in that season, at centre, on April 3rd 1915.
Apart from his brief posting to France, he remained available to Bradford, and played to the 1920/21 season
| | | | | |
| --- | --- | --- | --- | --- |
| Season | Appearances | Goals | Tries | Points |
| 1914/15 | 3 | 0 | 0 | 0 |
| 1915/16 | 0 | 0 | 0 | 0 |
| 1916/17 | 4 | 0 | 0 | 0 |
| 1917/18 | 12 | 0 | 0 | 0 |
| 1918/19 | 15 | 0 | 1 | 3 |
| 1919/20 | 0 | 0 | 0 | 0 |
| 1920/21 | 1 | 0 | 0 | 0 |
| Total | 35 | 0 | 1 | 3 |
Service History
On the 29th of May 1915 he joined the Seaforth Highlanders and stayed on home posting until the 10th of November that year when he was posted to the British Expeditionary Force in France.
Thomas suffered with a problem with his feet which made it extremely difficult for him to march and on the 18th of November he was posted back home and transferred to the Labour Corps where he remained until medically discharged on the 18th December 1917.
Thomas Wormald was later awarded the British and Victory Medals and the 1914/15 Star for his service in France (albeit only lasting 8 days).
Documents
H B Wray
Personal History
Harry Basil Wray was born in Malton, North Yorkshire in 1887.
Little is known about Harry's early life, but it is known that he joined the army and in 1911 the census return showed him in India aged 25 serving as a Corporal with the West Yorkshire Regiment.
Rugby History
It is known that, after leaving the army sometime prior to March 1914 Harry played for Horton Rugby Union Club, and that on March 4th 1914, Harry signed for Bradford Northern. He, as his military requirements allowed, played 13 games for Bradford, in the second row, in two non-consecutive seasons
| | | | | |
| --- | --- | --- | --- | --- |
| Season | Appearances | Goals | Tries | Points |
| 1914/15 | 6 | 0 | 0 | 0 |
| 1916/17 | 7 | 0 | 3 | 9 |
| Total | 13 | 0 | 3 | 9 |
Service History
At the start of World War 1 all reservists were called up and because of Harry's previous service he was one of those re-enlisted joining the West Riding Regiment (Service Number 33461) with the rank of Colour Sergeant. He subsequently transferred to his old regiment The West Yorkshires (11th Battalion – Service Number 7764).
Harry continued to serve with his regiment throughout the war.
In May 1915 the Italians entered the war on the Allied side after declaring war on the Austrians. British and Commonwealth forces, including Harry Wray's Battalion which was part of the 23rd Division, were sent to the Italian front in November 1917.
In the autumn of 1917 Austrian forces captured the small Italian village of Tezze in the province of Treviso north of Venice and the village remained in their hands until the autumn of 1918.
On the 23rd October 1918 Allied forces crossed the Piave River using small boats and bridging operations commenced to allow, with some difficulty, supporting forces to cross. The major allied attack commenced on the 27th October 1918 and despite stiff resistance the Austrians were forced back over the next couple of days until the Armistice came into effect on the 4th of November.
Harry Wray by now a Company Sergeant Major was heavily involved in the fighting and on 30th of October was awarded the Distinguished Service Medal. The citation read "For conspicuous gallantry and devotion to duty when in charge of twenty men during a raid. By his dash and able leadership he set all ranks a fine example, he was responsible for many prisoners being taken and brought his part back without casualty. He had previously done fine work".
Unfortunately this award came too late for Harry as he was tragically killed on the 29th of October 1918 just 6 days before fighting ceased on the Italian front.
Harry was also awarded the Italian Silver Medal. He is buried in the Tezze British Cemetery, Italy. The headstone on his grave reads 'God Gave and Quickly Gathered, RIP'
Harry was 32 years of age. His final rank is shown as Warrant Officer Second Class. He had served a total of 14 years with the Colours.
Documents