James Victor Addison
Personal History
Born James Victor Addison, on the 6th March 1887, he was brought up with his 5 sisters in his father's pub the Carnforth Arms, Lancashire.
He started work as a railway contractor and labourer for the Furness Railway company playing rugby union for his local team Carnforth.
James died on 12th April 1958
Rugby History
James, initially, played Rugby Union for his local club, Carnforth. James signed for Bradford Northern in October 1914, after the outbreak of WW1. He only played one game, for the A team (previously Bradford Rangers, before being taken over in December1913 and renamed Bradford Northern A), kicking a goal in a 14-0 win over Stanningley, before playing an active part in the war.
Service History
At the outbreak of war there were only two Regular and three Special Reserve Royal Engineer Railway Companies so a recruiting drive was started with large numbers of men from the railway companies enlisting some serving together in a similar way to the infantry pals battalions.
James volunteered in April 1915 and became a sapper affiliated with the Royal Engineers 117 Railway Company. On 5 September 1915 he embarked for the island of Lemnos, Greece the gateway to the Dardanelles.
Lemnos was a major base of operations due to its deep harbour. The Australian and New Zealand Army Corps (ANZACs) made the island a base, practicing the Gallipoli landings and establishing their own hospitals on the island as well as using it to provide brief periods of rest for their soldiers. James and the rest of the 117 railway company were to build the first purpose-built British military light railway of the Great War on the island.
After a period of operational difficulties the 117 railway company was moved to Egypt, where it carried out railway operations and civil engineering tasks before, in October 1915, being transferred to Salonika.
In Salonika the 117TH railway company assisted the Serbs in the building of railways and port defences.
James ended up in hospital 3 times, suffering Malaria along with another 162,000 allied soldiers.
Documents
Harry Bairstow
Personal History
Harry was born in 1990 and he appears on the 1911 census living wih his father and two other siblings at 40, Edinburgh, Bradford. He is shown as being 21 years of age, born in Bradford and his occupation was Auctioneer and Valuer. On the 24th December 1912 he married Ethel Normington at St Andrew's Church, Bradford.
Rugby History
Harry Bairstow joined Bradford Northern in 1909 transferring from the Bradford Rugby Union Club. He played three seasons for the club making 39 appearances before leaving to join Keighley playing his last game for Bradford at number 12 (second row forward) on September 9th 1911.
| | | | | |
| --- | --- | --- | --- | --- |
| Season | Appearances | Goals | Tries | Total |
| 1909/10 | 20 | 1 | 3 | 11 |
| 1910/11 | 18 | 5 | 4 | 22 |
| 1911/12 | 1 | 0 | 0 | 0 |
| Totals | 39 | 6 | 7 | 33 |
Service History
Sgt Bairstow joined the Seaforth Highlanders in November 1915 as a private. Four months later he had earned his sergeant's stripes and was engaged for eight months in teaching musketry.
Going to France in December of last 1916, he was at the base for a few months. After volunteering, he was sent up the line and took part in the Battle of Arras. He died from wounds on the 11th April 1917 in a casualty clearing station in France.
The Commonwealth War Graves Commission records that Private 201713 Harry Bairstow age 33 of the 4th Battalion the Seaforth Highlanders is buried in Aubigny Communal Cemetery Extension in France. His widow Ethel T Bairstow was residing at Seaforth Cottage, Baildon, Yorkshire. He also left two young children. She received £4-5-2d in back pay and £5-10s in War Gratuity from the Army.
Documents
Fred Barron
Personal History
Fred Barron was the son of Robert Barron, fisherman, was born in 1890 in East Hull.
Rugby History
Played one match for Northern in 1917/18. He didn't score in the game.
In 1907/08 he signed with Hull KR transferring to Leeds in Jan 1910. In 1912 he signed with Halifax.
Local newspapers reported, "Fred Barron, the well-known local three quarter is reported today to have signed on for Halifax. Barron who is a product of East Hull junior football, formerly played for Rovers from which team he was transferred to Leeds. With the Headingly organisation, Barron rendered yeoman service being very instrumental in helping Leeds to beat Hull in the final, for which feat he holds the NU Cup medal. The cause of his severance with the Leeds team is said to have been due to a disagreement about employment rather than lack of football prowess. The consequence was that Leeds placed him on the transfer list just prior to the commencement of the season, and substituted George Spivey, another ex-Rover and East Hull product. Barron's many friends in Hull and the West Riding will wish him success at Thrum Hall."
He played at least 3 matches for Hull 1916/17 but was still on the register for Halifax.
Service History
He enlisted in East Yorkshire regiment in May 1902 and transferred to Coldstream guards in March 1905.
He served as a private with the Coldstream Guards 3rd battalion and won the military medal Newspapers of the day reported "Private Fred Barron, the well-known Hull Kingston Rovers and Leeds Northern Union three quarter has been awarded the Military Medal for gallantry in carrying wounded to safety under heavy shell fire. The medal was presented it at the Guildhall by the Lord Mayor in February 1917.
Documents
Alfred Bedford
Personal History
Alfred was born in 1876 in Darlington, Durham. His father was Samuel Bedford (a coach carriage maker and later a grocer) and Jane Bedford his mother. Alfred had two brothers and one sister all of whom were born in Darlington, Durham.
At the time of the 1891 census, when Alfred was 14 years old, the family lived at 24 Spring Cliffe, Manningham, Bradford. Alfred was a Telegraph Messenger, which was the general line of work that he remained in for the rest of his life.
By 1901, the 24 year old Alfred, was living as a boarder at 9 Marine Parade in Heysham, Lancashire where he was still working as a Telegraphist.
Alfred married twice. His first wife was Bertha Wright from Pendleton whom he married on 29th April 1902 at the Pendleton Parish Church, Lancashire. They lived at 8 Trafford Place, Old Trafford, Manchester and this was probably during the time when Alfred was playing rugby at Salford. They had one child, James, who was born on 8th March 1904 at Fallowfield, Manchester.
Alfred's second marriage at the age of 30 was to 20 year old, Lillie Ogden (born in Newcastle Under Lyme, Staffordshire) on 18th May 1907 at St John's Church, Great Horton, Bradford.
This was during the time that Alfred played for Bradford. They lived at 342 Great Horton Road, Bradford and Alfred was employed as a Telegraphist. Alfred and Lillie do not appear to have had any children.
The 1911 census shows that Alfred, now aged 34, was living at 32 Turnbull Road, Longsight, Manchester with Lillie and was still working as a Telegraphist. Although Alfred and Lilly had no children of their own we can probably assume that his son James from his first marriage was living with them [the census form only requires children from the current marriage to be recorded so James is not mentioned. However, he is later mentioned on Alfred's military papers as his son].
After the war he returned to Belper living at 'The Lawn' with Lillie where he resumed working for the Post Office.
Alfred died on 11th August 1931 aged 54 years at National Hospital, Queen Square, London following an operation. At the time he was living at 9 Haven Bank in Boston, Lincolnshire with Lillie where he was working as superintendent at the Post Office, having moved there from Coventry about a year earlier.
His obituary in the Lincolnshire Standard described him as having 'made a host of friends' and 'a keen tennis player and supporter of Boston FC'. He was survived by his wife Lillie and left a legacy of £284 19s 6d.
Rugby History
Alfred played 8 games for Bradford Northern in the 1906/07 season, signing on 6th November 1906 from Salford. He was said to be, "a very clever wing three quarter and is a local lad having formerly been connected with the Windhill Club. He is very speedy, and will doubtless prove an acquisition." He was 12st and 5ft 9 when he joined the club and was described as "an all-round athlete". He left the club in 1909 after making 8 appearances.
Playing record: Bradford Northern
| | | | | |
| --- | --- | --- | --- | --- |
| Season | Appearances | Goals | Tries | Points |
| 1906/07 | 8 | 0 | 4 | 12 |
1906-1907 season: games played
November 5 (played position 2: right wing) York (Home) Won 31-10 [Bedford scored 1 try]
November 24 (played position 4: left centre) Hull KR (Away) Lost 8-17
December 8 (played position 5: left wing) Salford (Away) Lost 0-16
December 18 (played position 2: right wing) Oldham (Home) Won 21-9
January 12 (played position 3: right centre / three quarter back) Huddersfield (Home) Won 26-3 Bedford scored 2 tries]
January 19 (played position 2: right wing) Warrington (Away) Lost 5-11
January 26 (played position 2: right wing) Halifax (Home) Lost 4-21
March 9 (played position 2: right wing) York (Away) Won 13-6 [Bedford scored 1 try]
Service History
When the war broke out Alfred was a sub-postmaster at Belper, Derbyshire (living at Spencer Road) and he immediately asked to enlist. He struggled to get permission to leave the postal service but was eventually allowed to join the Nottingham Derby Regiment (Sherwood Foresters) as a private.
He enlisted on 23 October 1914. He was quickly promoted through various non-commissioned ranks to quarter master sergeant (appointed 24th February 1915) and spent several months (171 days, 24 Feb to 14 August 1915) in this role with the expeditionary force in France.
His military character was described as 'a first class man in every way with a good organising business head'.
On the 25th September 1915 aged 39 he was discharged at Derby from the Nottingham Derby Regiment so that he could be attested to the regular army Royal Engineers Signal Section on the same date at Fenny Stratford Signal Depot (near Bletchley) but in the reduced rank of corporal. He was described as 'a skilled telegraphist' and 'a resourceful and sound man'. He again rapidly rose to quartermaster-sergeant, eventually obtaining his commission as Second Lieutenant on 28th January 1916 at the age of 40 years. At this stage his military character was described as 'good' and his character as 'sober and honest'.
Alfred was discharged from the Royal Engineers around 20 October 1920 having obtained the Victory Medal, the British Medal and the 1915 Star during his commendable army career.
Documents
Arthur Bennet
Personal History
No information other than he was a native of Leeds
Rugby History
Little is known about Arthur Bennett other than two newspaper reports that record him joining Bradford Northern in 1914. A further report stated that A Bennett a centre from Eleven Lane Ends FC was probably one of the best of the new men who had joined the club at that time. Nothing is known further of his playing history and his name does not appear in the first team records for that period. It seems his playing for the club did not extend beyond the 'reserves'
Service History
The Yorkshire Evening Post of 26th of November 1914 records that Arthur Bennett a reserve centre three-quarter had enlisted in the King's Own Yorkshire Light Infantry. The newspaper reports that he was the 14th Bradford Northern player to join the colours. It also recorded that Bennett had only joined Bradford Northern at the beginning of that season and that he had been displaying fine form.
Documents
Walter Burrall
Personal History
Walter was born in 1887 in Bradford to George and Sarah Burrall. His father, a labourer, died when he was still a boy leaving his mother to care for him and his siblings. He became a splitter in a dyehouse but when he turned 18 he enlisted in the Royal Garrison Artillery militia. He was 5ft 7 and had a fresh complexion, hazel eyes and brown hair with Faith, Hope and Charity and cross flags tattooed on the back of his left forearm. However, he didn't last long only serving 49 days before being discharged by purchase in February 1905.
He went on to enlist in the regular army with the 6th Dragoon guards where he became Lance Corporal and part of the cavalry Lines in Tempe, Orange Free State, South Africa.
Rugby History
Newspaper reports from February 1912 when he signed with Northern stated that he was "a South African international who during the last two years has played in all the representative matches in the Orange Free State either as a forward or centre three quarter. He is 24 years of age, stands 5ft 10 in and weighs 13 stones".
He played his first game for the club on the 10 February 1912 and being a big strong player 'did credit to himself in the front division', even though Bradford lost 4 points to 16.
He played various positions in the forwards including prop, hooker and loose forward but his favourite position appeared to be number 11 (second row) playing there 28 times. His last appearance for Northern was on April 14th 1914 playing at number 8 (Prop Forward) at home against Halifax that Bradford lost 9 points to 10.
Playing Record Bradford Northern
| | | | | |
| --- | --- | --- | --- | --- |
| Season | Appearances | Goals | Tries | Points |
| 1911/12 | 14 | 0 | 1 | 3 |
| 1912/13 | 35 | 0 | 5 | 15 |
| 1913/14 | 12 | 0 | 0 | 0 |
| Totals | 61 | 0 | 6 | 18 |
Service History
Having previously served in the army Walter was called up as a reservist when war broke out and appeared to be a corporal still in the 6th Dragoon Guards "I have not the least doubt that he is as popular with his soldier comrades as he is with the Bradford Northern team. Even in the trenches, with the sound of firing ever in his ears, he finds time for a kindly thought for Bradford Northern. I trust that he and other Bradford Northern players on active service will not be forgotten by those at home."
In November 1914 he wrote several letters home:-
"I am still in the best of health. The weather is beginning to get colder now and we are having it a bit rough. We go in the trenches for days at a time sometimes we are in for a week before we get relieved and not even getting a wash or a shave. On November 1st at two in the morning we were in the trenches when the Germans attacked and we made it very hot for them I can assure you"
In a letter to Mr Bradley of Birch Lane "I thank you very much for the box of cigarettes you sent me. We all enjoy a smoke. I have been on the lookout for Ruck (another Bradford forward) but I have not come across him yet. We have had hand to hand fights with the enemy and I have had the best of health and luck so far. Remember me to the boys and committee. I would very much like to see them win the Yorkshire Cup. Wishing them the best of luck. Myself and comrades have each received a packet of tobacco from Mr Charles H Hannan, 24 Hallfield Road, Bradford and we have all sent our best wishes and thanks to him for the same."
"It would not do you any good to see us get our meals. When in the trenches, we are covered in mud. We have not had a wash for days, and have been living on biscuits and bully beef, but at present we are having a little rest. All the same I want to be in at the finish which I hope I shall see with the best of luck. We are on top now and so are the Russians, and they say that weighs tall. So, all I have to say is I hope the Allies will put their weight on and completely squash the enemy. I shall never have any respect for a German after this, as I have seen so many things that I shall never forget. I have a German helmet and I mean to send it as soon as I get the chance."
After December 1914 Walter goes quiet one newspaper reporting that he had not been heard from for a year. His military record appears not to have survived but we believe he became sick and was transferred to England on 13 Jan 1915 on board the SS Willow.
In 1917 he was transferred to the newly formed Employment Labour Corps which was manned by men who were medically rated below the 'A1' condition needed for front line service, although they often worked within range of enemy fire. It is not known what health issues affected Walter or what he got up to in the Labour Corp and although we believe he survived the war unfortunately we don't know when or where he eventually died.
Documents
Crispin Carter
Personal History
Crispin Carter was born on the 25th of October 1889 and grew up in Barrow in Furness. The family later moved to Coventry. By 1939 Crispin was living in Coventry with his wife and son. His occupation was Millwright
Rugby History
According to newspaper reports he played for Barrow and spent a couple of seasons playing for Coventry. In August of 1913 Crispin joined Bradford Northern and played for the Birch Lane side during the 1913/14 season. He played stand-off half back and was well liked by fans.
"He has come into the public eye by reason of his goal kicking powers, and has rendered good service in this direction in the cup ties"
He never returned to play for Bradford Northern's first team after the war and seems to have returned to live in Barrow.
Playing Record Bradford Northern
| | | | | |
| --- | --- | --- | --- | --- |
| Season | Appearances | Goals | Tries | Points |
| 1913/14 | 22 | 11 | 6 | 40 |
| Totals | 22 | 11 | 6 | 40 |
Service History
When war broke out in 1914, Crispin was one of the first to join up, enrolling with the Royal Field Artillery on the 8th of September that year.
He was a shoeing smith, making and fitting horses' shoes, and a gunner. In July 1915, he travelled to Egypt returning home in July 1917 having contracted malaria.
He was demobilised in March 1919 but was not considered eligible for a pension.
He was awarded the 1914/15 Star and the British War and Victory Medals and his service is commemorated on the Dendron, Leece and Gleaston war memorial.
Documents
George Dodson
Personal History
George was a Liverpool lad having been born in the City circa 1889. The 1891 Census reveals that George (2 years) is living with his family in West Derby, Liverpool. The Census return of 1901 shows him at 12 years of age residing with his parents at 14, Castle Street, Leigh. By 1919 George had married and gave his home address as 107, Thornbury Avenue, Bradford
Rugby History
George Dodson only played one game for the first team having been signed by Bradford Northern on the 28th of August 1919. Dodson turned out for his first and only game away against St Helens Recreation two days after signing on the 30th August, playing on the right wing. Unfortunately, this was not a particularly auspicious game in which to establish yourself as a player. St. Helens had only just joined the league and were turning out for the first time as a Northern Union side against an established Bradford team.
The Leeds Mercury on the 1st September reported "St Helens overwhelmed Bradford to the extent of 9 goals and 12 points (54 points) to nil." They did however comment positively about George, "Playing with the wind in the second half, Bradford gave a much better account of themselves for the first fifteen minutes. Dodson made a bold dash for the line but was not supported."
Despite this brief attempt to regain the initiative Bradford could not pull the game back and suffered an ignominious defeat.
Obviously, despite his attempts on the day, George did not impress enough to retain a first team place.
Playing Record Bradford Northern
| | | | | |
| --- | --- | --- | --- | --- |
| Season | Appearances | Goals | Tries | Points |
| 1919/1920 | 1 | 0 | 0 | 0 |
| Totals | 1 | 0 | 0 | 0 |
Service History
He joined the Lancashire Hussars (a Territorial Regiment), as a Private, on the 5th of November 1915 and quickly moved up through the ranks. By September 1916 he was a Lance Sergeant. On the 15th of February 1917, George's Battalion were posted to France and he reverted to the rank of Private, however by the 12th of April he had moved back up to the rank of Sergeant and subsequently was appointed to the role of Company Quarter Master Sergeant.
He eventually transferred to the Labour Corps and was demobilised on the 13th of May 1919.
Documents
Herbert Duce
Personal History
He was born on December 23rd1988 in Shipley, Bradford. In 1901, aged 12, he was a worsted spinner and by the age of 22 he was an 'Engine cleaner' for Great Western Railways, living in Bowling, Bradford. In 1917, he stole a pound of grapes to give to his ill fiancé and was fined £10 after his employer of 6 years, GWR, spoke for his good character to prevent him from going to prison. On May 11th1918 Herbert married 29 year old Florence when his occupation was listed as 'soldier'.
Rugby History
Rugby History
Herbert signed for Bradford Northern in September 1912 and made 38 appearances until the 1916-17 season.
Playing Record Bradford Northern
| | | | | |
| --- | --- | --- | --- | --- |
| Season | Appearances | Goals | Tries | Points |
| 1911/12 | 1 | 0 | 0 | 0 |
| 1912/13 | 0 | 0 | 0 | 0 |
| 1913/14 | 0 | 0 | 0 | 0 |
| 1914/15 | 13 | 0 | 0 | 0 |
| 1915/16 | 9 | 0 | 0 | 0 |
| 1916/17 | 15 | 0 | 0 | 0 |
| Totals | 38 | 0 | 0 | 0 |
Service History
He enlisted on 31st August 1915 and was a private in the Liverpool Scottish regiment, serving in France and Flanders. Herbert was wounded and evacuated to the UK in 1916 and received a medical discharge in 1917.
Documents
W J (Joe) Eagers
Personal History
We have no background history for this man
Rugby History
We have reliable evidence of Joe having played, predominantly, in the threequarters, for Bradford between 1900 and 1905, and again in the 1909/10 season
| | | | | |
| --- | --- | --- | --- | --- |
| Season | Appearances | Goals | Tries | Points |
| 1900/01 | 33 | 15 | 8 | 54 |
| 1901/02 | 17 | 3 | 2 | 12 |
| 1902/03 | 22 | 4 | 3 | 17 |
| 1903/04 | 11 | 7 | 3 | 23 |
| 1904/05 | 37 | 13 | 12 | 62 |
| 1909/10 | 14 | 10 | 2 | 26 |
| Total | 134 | 52 | 30 | 194 |
Service History
We have evidence that in the First World War, Joe Eagers served as a frontiersman in the Royal Fusiliers
25th (service) battalion frontiersmen was formed by the legion of Frontiersmen 12th February 1915. On 10th April 1915, they embarked at Plymouth, for East Africa, arriving at Mombasa on 4th May 1915. They left for England at the end of May 1917, then subsequently disbanded at Putney on 28th June 1918. (From a publication called 'The Long Long Trail')
The town of Bukaba is referred to in a newspaper cutting of a letter Joe sent home; telling of his experiences in Africa – The Battle of Bukaba saw the capturing of the town from the Germans over a two to three day period.
Frederick Newstead Fearnley
Personal History
Frederick was born in 1869 and grew up in York, son of Charles and Francis Fearnley confectioners.
His father died when he was just 8 years old and by the time of the 1881 census, age 12, he was in the boarding school of the Blue Coat charity at Peasholme Green, St Antony, York.
Ten years later he was working as a railway clerk.
In January 1915, it was reported that Fred was seriously ill. Apparently "he was not in robust health when he came to Bradford and it looks very much as though the change of air has not been beneficial to him. For some weeks he has been fulfilling his duties under great difficulties and there have been times when he ought to have been in bed instead of attending football matches. He is now confined to his bed with a serious attack of double pneumonia."
The following month he seemed to be on the mend "His indomitable spirit has saved him for a total collapse."
On November 10th 1919 the Leeds Mercury reported that he was ill with no improvement in his condition and, although "the spirit was willing the flesh was weak", he had taken to his bed some seven weeks previously. Friends were asked to write to him at 48, Parsonage Road, West Bowling, Bradford.
Unfortunately, Fred's health continued to deteriorate and on the 30th of November 1919 he died. Frederick Newstead Fearnley left £143 2s 2d to his widow Catherine Rebecca Fearnley.
On December 2nd 1919 in an obituary in the Yokshire Evening Post it was recorded that Fred, a Yorkshireman by birth, had been in failing health for some time and that he had played for Acomb and York as a forward, but in 1895, due to a serious injury, he had given up playing. They reported that Fred had taken up the post of secretary at Broughton Rangers in 1900 and during his 14 years with them they had won the Northern Union Cup twice and the Northern League Championship.
Rugby History
He played for Acomb as a forward around 1886 then two years later joined York and made a reputation as a scrummager. He became captain of York 2nd who he played for until 1895 when he had to stop playing due to serious injury. He went on to became secretary of York for three years and treasurer for one.
He organised the Yorkshire and District Challenge Cup for clubs playing within 50 mile radius of York and became the first president of the Yorkshire Northern Union Second Competition in 1898-99.
He went on to be the first paid secretary of Broughton Rangers in 1900 and in his 14 years there the club won the Northern Union Cup twice and the Northern League Championship and was regarded as one of the most successful clubs of the Northern Union.
He came to Bradford Northern in July 1914
"He is not likely to listen to every Tom Dick and Harry who comes along with suggestions and now that he has been given sole charge of the team he will adopt a bold policy. Mr Fearnley has sufficient experience of football enthusiasts to be bullet proof and we may confidently anticipate that he will do just as he thinks best – in so far, of course, as it meet with the general approval of the directors." (Yorkshire Sports)
He brought the concept of the interworks competition to Bradford a scheme which had proved successful in Broughton Rangers.
In the November 1915 he was given a government appointment and there was concern that he might not be able to maintain his role at Bradford Northern. In seems however, that in fact, he remained as Secretary.
In July of 1917 it was reported that he had resigned his position as Honorary Secretary and a new Secretary, Mr F Crowther was appointed in his place. At the meeting, he assured the Directors that he was willing to give the club every assistance in the future.
Service History
On the 4th December of 1915 in his 'Bradford Northern' column in the Yorkshire Sports, 'Forward' reported that, Mr F N Fearnley, secretary-manager of the club, had commented on the columnist's suggestion that a fund should be set up for Bradford Northern players returning from the war who had been incapacitated in some way.
Mr. Fearnley wrote " I am in full sympathy with the same and am prepared to lend every assistance to any project which may ultimately be decided upon" He went on to report, "already we have a player amongst us again from the front who has been discharged from the Army totally incapacitated and who is receipt of a very small allowance from the Government insufficient to maintain him and his family" He was referring to FH Stead who played for the Club reserves and returned back home severely injured and hardly able to walk.
Undoubtedly, at the back of his mind when writing this letter was the fact that his son Arthur Frederick Fearnley was a private in the Royal Highland Regiment (Black Watch) and subsequently he served in France from August 1916. His son was later to be promoted, in 1918, to Second Lieutenant in the Yorkshire and Lancashire Regiment.
Documents
Harry Feather
Personal History
We have no background history for Harry, but an extensive playing record and report of him serving in France, in World War One.
Rugby History
Harry's playing career, at Bradford, spanned eighteen seasons and included games against both Australia and New Zealand. He also represented England in 1905, against Other Nationalities
| | | | | |
| --- | --- | --- | --- | --- |
| Season | Appearances | Goals | Tries | Points |
| 1898/99 | 3 | 0 | 1 | 3 |
| 1899/00 | 17 | 0 | 1 | 3 |
| 1900/01 | 29 | 0 | 1 | 3 |
| 1901/02 | 17 | 0 | 0 | 0 |
| 1902/03 | 12 | 0 | 0 | 0 |
| 1903/04 | 26 | 0 | 0 | 0 |
| 1904/05 | 21 | 0 | 0 | 0 |
| 1905/06 | 38 | 0 | 2 | 6 |
| 1906/07 | 23 | 2 | 1 | 7 |
| 1907/08 | 31 | 2 | 4 | 16 |
| 1908/09 | 9 | 1 | 1 | 5 |
| 1909/10 | 5 | 0 | 0 | 0 |
| 1910-11 | 0 | 0 | 0 | 0 |
| 1911/12 | 26 | 1 | 3 | 11 |
| 1912/13 | 31 | 6 | 3 | 21 |
| 1913/14 | 28 | 1 | 0 | 2 |
| 1914/15 | 2 | 0 | 0 | 0 |
| 1915/16 | 18 | 0 | 0 | 0 |
| 1916/17 | 3 | 0 | 0 | 0 |
| TOTAL | 339 | 13 | 17 | 77 |
Service History
There is little information about Harry's involvement in action in World War One. There is one report of him being killed in action in France.
This report, however, was found to be grossly exaggerated. A newspaper report from the time stated, "First reported missing, it was said during the weekend that he was dead, but, almost immediately came the news that neither report was true; he is in hospital…. Mrs Feather has received news from him this week that he is ill in hospital in France. How the report got abroad it is difficult to say but it was thoroughly believed by the club officials who repeated it. A few weeks back Mrs Feather it transpires was a little worried because she had not heard from her husband for a couple of months and this apparently had been interpreted as missing by the gossips until the news had gradually gained strength that he was actually killed. Harry is fortunately all right apart from his illness which is said not to be serious and if he should be sent home for a convalescent leave he is certain to have a warm welcome from his pals, who are more than willing to forgive him the anxiety he has unwittingly caused them."
We don't know the nature of his illness or even what regiment he served in, but we know he didn't make it back into the first team after this date. He had played 19 consecutive seasons (with the exception of 1910/11).
A benefit match was played for Harry Feather and Jack Haley on 1st January 1924 when Bradford Northern played against Keighley, in front of a crowd of about 1000.
John (Jack) Flynn
Personal History
All we know of John Flynn's background is that he was a native of Whitehaven.
Rugby History
Over a thirteen year period, before joining Bradford Northern, his rugby history was:
1901-2 he played for Whitehaven Recreation, 1902-3 for Parton, 1903-6 for Swinton Lions (61 times),before transferring in 1906 to Broughton where he made a 111 appearances before signing again for Swinton Lions in 1911, for whom he played a further 19 times.
As a rugby player he had a fine reputation and was versatile enough to play in most positions in the backs and he played for England against New Zealand in 11 January 1908 at Central Park.
He also won 14 caps for Cumberland between 1904 and 1910.
He signed for Bradford Northern 2nd September 1914 from Swinton – but did not play for the first team.
Service History
Shortly after signing for Bradford the First World War had erupted across Europe and Jack enlisted as a Lance Corporal in the 7th Battalion of the Border Regiment. Towards the end of the conflict, Jack was killed-in-action on 4th May 1918 aged 34 following a massive German counter-offensive on the Somme Battlefield.
Lions in the Great War
By Ian Jackson
During the Edwardian period, the officials at Swinton Football Club would actively seek to recruit the most talented local players available as well as those from further afield. South Wales was a popular hunting ground for the club's talent scouts as was the former county of Cumberland. Two north countrymen to accept Swinton's terms were Jack Flynn and Tom Neen. Both players were born in Cumberland and had interesting careers for the Lions in the first team. Both these brave men joined the army during the First World War and enlisted at Whitehaven into the Border Regiment.
Lance Corporal Jack Flynn served in the 7th Battalion of the Border Regiment; service number 14849. As a rugby player he had a fine reputation and was versatile enough to play in most positions in the backs. Whitehaven-born Jack was hugely talented and a very likeable character on and off the field of play. Before signing for the Lions, he played for his hometown club Whitehaven Recreation and then local rivals Parton where he scored 21 tries in the 1903-04 season. Jack had several offers from First League clubs but signed for Swinton for 15 shillings at the start of the 1904-05 season. In total, Jack played 79 times for the club in two spells either side of a period at Broughton Rangers where he won an England cap versus New Zealand at Wigan on 11 January 1908. He also won 14 caps for Cumberland between 1904 and 1910. Jack was killed-in-action on 4 May 1918 aged 34 and he is buried at Forceville Communal Cemetery in France, which is located in the Somme battlefield.
Private Tom Neen served in the 5th Battalion of the Border Regiment; service number 2420. As a rugby player he was a fearsome forward in the Lions pack and played a total of 27 times for the first team. Great Clifton-born Tom was signed from the Whitehaven Recreation club for £5 at the start of the 1909-10 season although towards the end of his time with the Lions he was also transfer-listed for £20. Like Jack Flynn, Tom went back home to enlist, no doubt to be near his parents who lived at 21 Curwin Street in Harrington halfway between Whitehaven and Workington. Tom was killed-in-action on 27 July 1916 aged 21 and he is buried at Dranoutre Military Cemetery in Belgium, which is located in the Ypres Salient battlefield.
One hundred years ago exactly the Great War erupted all over the globe. Men from across the country enlisted into the armed forces including over 60 players from Swinton Football Club. Most of these players were from local towns such as Clifton, Eccles, Pendlebury, Pendleton and of course Swinton. Tragically, a total of thirteen Swinton players were killed in the First World War and the club is proud to record that two of these men were Jack Flynn and Tom Neen both from the Whitehaven area. A full list of the Swinton players killed in both world wars is contained in this programme.
Name
William Lightowler Gadsby
Personal History
William (Willie) Lightowler Gadsby was born to Annie Gadsby, in Buttershaw, Bradford on May 17th 1890 and was baptised at Buttershaw St Paul's Parish Church on December 4th 1893.
Willie initially lived with his mother and grandparents and later with just his grandparents (1891, 1901 and 1911 Census). He married Ethel Throp in 1916.
He worked a blacksmith's striker/shoesmith. Much later, in 1939, he was recorded as being a gardener.
Rugby History
William was first signed for Bradford Northern January 24th 1911 from the Wibsey amateur club. As a Second row, Loose forward or Prop. He played a total of 45 games in the period up to and including the 1920-21 season, remaining on the club's books throughout the First World War years
| | | | | |
| --- | --- | --- | --- | --- |
| Season | Appearances | Tries | Goals | Points |
| 1913/14 | 5 | 0 | 0 | 0 |
| 1914/15 | 15 | 0 | 0 | 0 |
| 1915/16 | 5 | 0 | 0 | 0 |
| 1916/17 | 3 | 0 | 0 | 0 |
| 1917/18 | 10 | 0 | 0 | 0 |
| 1918/19 | 2 | 0 | 0 | 0 |
| 1919/20 | 4 | 0 | 0 | 0 |
| 1920/21 | 1 | 0 | 0 | 0 |
| Totals | 45 | 0 | 0 | 0 |
Service History
William enlisted with the 6th West Riding Regiment on the 24th June 1916, but he wasn't called up for service until 25th June 1918. When called up to serve, he is recorded as residing at 151 Birch Lane, West Bowling and his occupation is Farrier. On the form he states that he wishes to be a Shoeing Smith with the Royal Garrison Artillery
He contracted scabies and spent 4 days in hospital from the 12th to the 15th of October 1918 It would seem that army life was not for him as he received 13 days detention and 13 days loss of pay for going absent without leave from the 22nd October to the 4th of November 1918 and again seems to have absented himself for 11 days in February and March 1919. He was finally discharged from the army on the 7th of November 1919. On demobilisation his home address is 32 Slack Top, Wibsey.
Documents
Oscar Merle Garlick
Personal History
Oscar Merle Garlick was born on 24 July 1893 in Bradford. An assistant in a Bradford Wool and Yarn Firm,
In late 1916 he was home and married Bertha Holroyd in North Bierley.
He and Bertha had two children.
Oscar Merle Garlick died on the 11th May 1962 at Leeming, Northallerton in North Yorkshire.
Rugby History
By 1914 Oscar was playing with Slackside Wesleyans (Wibsey) and on the 29th of August that year he turned out for Northern in a pre-season practice game. On the 8th of September that year he was signed by Bradford. He played his only game after signing, against Wakefield, on 26th September 1914, then the war intervened
| | | | | |
| --- | --- | --- | --- | --- |
| Season | Appearances | Tries | Goals | Points |
| 1914/15 | 1 | 0 | 0 | 0 |
Service History
On the 21st of October 1914 Oscar enlisted with the Royal Field Artillery. He was subsequently promoted to Bombadier and in August of 1915 was posted to France with his unit.
Unfortunately by the 4th of March 1916 the Yorkshire Sports reported that Oscar had been seriously injured. The Bradford Northern columnist 'Forward' told readers that Oscar's mother had received a letter from a Ward Sister at the St John Ambulance Brigade Hospital in France in which she said "I am very sorry to tell you that your son has been admitted to this hospital wounded and is unable to write. He is badly wounded in both hands and I am sorry to say has lost his right one. His eyes are injured too although one is improving well" His chaplain also wrote expressing the sympathy of the officers and men of his Brigade and hoping that his recovery would be rapid.
Oscar's military service effectively ended at this point, as of course did his rugby career and he was finally discharged from the forces on the 10th of January 1917.
Oscar was awarded the silver war badge on the 13th of January 1917 and later received the Victory and British War Medal together with the 1914/15 Star.
Documents
Gomer Llewelyn Gunn
Personal History
Gomer Llewelyn Gunn was born in Treherbert, Glamorgan in 1885. By the age of 15 he was working as a Coal Hewer.
He married Annie Bentley (the daughter of Percy Bentley – the landlord of The Old Queen's Head Inn in Bingley) at Bingley Parish Church on June 27th 1906
By the time of the 1911 Census, Gomer and Annie had 2 daughters, Annie and Doris and were living in Keighley and were Inn keepers. Doris would go on to have a career in the world of entertainment and film, adopting the name Dolly.
Gomer, by then a widower, married Elsie Richardson at Bolton Parish Church on March 30th 1929
Gomer died of a suspected seizure in 1935
Rugby History
On his 18th birthday, in 1903, Gomer joined Bradford as a Full Back. By the 1904/5 season Gomer had represented both Yorkshire and Wales.
He stuck with the club through the split, when Bradford became a soccer club, in 1906, and when the ensuing rugby club embraced the new 13 a side code and became Bradford Northern, in 1907. Gomer captained the team which played the first game as Bradford Northern; versus Huddersfield at Greenfield on Sept 7th 1907
Gomer left the Bradford club after the 1907/8 season, having periods as both a Wigan and a Keighley player. He did, however, makes some further appearances for Bradford in the war years.
Gomer made a total of 181 appearances for Bradford, with the final appearance being in the 1918/19 season
| | | | | |
| --- | --- | --- | --- | --- |
| Season | Appearances | Tries | Goals | Points |
| 1903/4 | 36 | 0 | 2 | 4 |
| 1904/5 | 37 | 0 | 1 | 2 |
| 1905/6 | 39 | 0 | 11 | 22 |
| 1906/7 | 30 | 0 | 9 | 18 |
| 1907/8 | 36 | 1 | 18 | 39 |
| 1917/8 | 2 | 0 | 0 | 0 |
| 1918/19 | 1 | 0 | 0 | 0 |
| Total | 181 | 1 | 41 | 85 |
Service History
Gomer was enlisted to the Royal Army Corps Service on 6th March 1915.
He saw service as a Private, Service NoS4/070759, in France, from 15th November 1915. He received the 1915 Star and the Victory medal.
John (Jack) Haley
Personal History
John was born in Bradford, the son of an Iron moulder in 1887. His first job was as a Worsted jobber, but then became and Iron Foundry labourer and a riveter in a galvanizing factory.
In 1905,as an 18 year old, he was enlisted by the 3rd West Yorkshire Regiment, He completed 76 days drill with them.
In 1907 He married Sarah Emma Ellis. They had their first child, Edith, in 1911
John died in 1937, leaving a wife and 2 children
Rugby History
John signed for Bradford in 1907 and went on to be selected for Yorkshire in 1909.
He became team Captain in 1914 and his career with Bradford ran up to, and included the 1921/22 season
| | | | | |
| --- | --- | --- | --- | --- |
| Season | Appearances | Goals | Tries | Points |
| 1907/8 | 29 | 0 | 1 | 3 |
| 1908/9 | 30 | 0 | 7 | 21 |
| 1909/10 | 34 | 4 | 4 | 20 |
| 1910/11 | 30 | 0 | 3 | 9 |
| 1911/12 | 25 | 0 | 6 | 18 |
| 1912/13 | 35 | 0 | 5 | 15 |
| 1913/14 | 36 | 0 | 6 | 18 |
| 1914/15 | 18 | 0 | 2 | 6 |
| 1915/16 | 6 | 0 | 1 | 3 |
| 1916/17 | 1 | 0 | 0 | 0 |
| 1917/18 | 24 | 0 | 4 | 12 |
| 1918/19 | 21 | 0 | 2 | 6 |
| 1919/20 | 29 | 0 | 5 | 15 |
| 1920/21 | 29 | 0 | 0 | 0 |
| 1921/22 | 1 | 0 | 0 | 0 |
| Totals | 348 | 4 | 46 | 146 |
Service History
There is no record of John having fought in World War 1, but his employment in the metal
Industry would suggest a contribution in a reserved occupation
John William Hardaker
Personal History
John William Hardaker was born at 8, Sharp Street, Wibsey to Joseph, a coal miner, and Bridget Hardaker.
There is little information about John's early life (except 1901 Census), before his signing with Bradford Northern in April 1911. He was employed as a Yarn Finisher in that year.
He married Alice Moulson on 22nd December 1926 at St Stephen's Church West Bowling
On the 1939 Register he was recorded as working a Woolpacker and living in Buttershaw
John died on 22nd August 1986, aged 94 years.
Rugby History
John had a long and successful career with Bradford spanning 19 seasons and 293 appearances. He also gained representative honours with Yorkshire, He transferred to Leeds in January 1921.
| | | | | |
| --- | --- | --- | --- | --- |
| Season | Appearances | Goals | Tries | Points |
| 1910/11 | 3 | 0 | 0 | 0 |
| 1911/12 | 6 | 0 | 0 | 0 |
| 1912/13 | 20 | 0 | 0 | 0 |
| 1913/14 | 21 | 0 | 2 | 6 |
| 1914/15 | 27 | 0 | 5 | 15 |
| 1915/16 | 23 | 1 | 5 | 17 |
| 1916/17 | 0 | 0 | 0 | 0 |
| 1917/18 | 2 | 0 | 2 | 6 |
| 1918/19 | 2 | 0 | 0 | 0 |
| 1919 to 1929 | 189 | 11 | 15 | 67 |
| Totals | 293 | 12 | 29 | 111 |
Service History
On the 1st March 1916 warehouseman John William Hardaker, aged 23, signed up with the Royal Garrison Artillery and was transferred to the army reserve.
On 5th April 1916 he was mobilised for training, then on 13th August he was posted to the British Expeditionary Force in France.
Gunner Hardaker then served in France throughout 1916, 17 and 18, having been incapacitated between May and July of 1918 with Influenza (as were many, at that time).
In brief periods of leave, in 1917 and 18, he returned home and appeared a limited number of times for Bradford Northern.
On 13th September 1919 John finally returned home for demobilisation from the army
George Kirton
Personal History
George was born on 9th December 1892 to John Metcalfe Kirton (a warehouseman) and Eliza Jane Kirton (a char lady) in York Street, Bradford, and was baptised on 14th November 1894 at the same time as his two brothers (Walter and Albert) and two sisters (Eliza and Lilly) when the family were living at 281 Bolton Road, Bradford.
The 1911 census reveals that the 19 year old George was a labourer at a local sawmill.
On 17th September 1913 George married Viva Stewart, the daughter of a miner from Bradford. She was a local girl and lived just a few doors from the original Kirton family home on Bolton Road, Bradford.
By the time of the 1939 census George was living with Viva at 12 Lofthouse in Bradford and had a son (also called George Kirton) who had been born in 22 Nov 1916. Viva was a char lady and George was described as a street and drainage labourer.
Rugby History
By 1913 George appears to have played rugby with Bradford Northern's junior and reserve teams for a few years because just prior to signing for the Northern senior team on 28 February 1913.
George went on to make 34 appearances for Northern between 1913 and 1914 playing, mainly, at wing three quarter. His reputation was as a fast sprinter and a clever player.
| | | | | |
| --- | --- | --- | --- | --- |
| Season | Appearances | Goals | Tries | Points |
| 1912/13 | 10 | 0 | 4 | 12 |
| 1913/14 | 14 | 0 | 2 | 6 |
| 1914/15 | 10 | 0 | 3 | 9 |
| Total | 34 | 0 | 9 | 27 |
Service History
When war arrived in 1914 George volunteered for the war effort in October of that year, enlisting on 16 November 1914. He joined West Yorkshire Regiment and underwent the usual period of training. George was a Private in the Labour Corps of his regiment and was sent to the western front in January 1915.
In September 1915, however, George came home on leave and took part in a series of sports that were arranged by the officers of the 6th West Yorkshire regiment (Bradford Territorials) and the Skipton Fire Brigade at Sandylands, Skipton, to raise funds for the local hospital. The event raised £9 and it was reported that George Kirton won both the 100 and 200 yards races. Interestingly George also ran while he was in the army and he mentioned in a letter home that he had won some prizes including a gold watch.
Remarkably George survived the entire war despite fighting in numerous battles including Neuve Chappelle, Hill 60, Festubert, St Eloi, Albert, Vermelles, Somme, Beaucourt, Arras, Messines and Lens as well as several engagements in the Retreat and Advance of 1918. His survival is, perhaps even more surprising, given that he was wounded three times – at Festubert, Vermelles, and Lens (on 19 Aug 1917) – but each time recovered and returned to continue his service for his country.
George returned home and was discharged from the army on 9 Nov 1918 after the conclusion of hostilities. In return for his service he was rewarded with the 1914-15 Star and the General Service and Victory medals.
Documents
Alexander Laidlaw
Personal History
Alex Laidlaw was born in Edinburgh, Midlothian, Scotland in 1878 the son of Thomas and Jane Laidlaw. By 1891 at the age of 13 he is shown in the Scottish Census returns as residing at 3, Dickson Street, Hawick with his mother and other siblings. He is shown in the census as a tweed factory worker.
It would seem, that by this time he had already had a scrape with the law with The Hawick News reporting in 1889 that an Alexander Laidlaw of Dickson Street had been sentenced to 48 hours in the cells after pleading guilty to stealing fourpence from a local shopkeeper.
By 1901, Alex is living in Bradford at 32, Cranbrook Street, West Bowling with his new wife Mary. He is described on the Census Return as a Stonemason.
His juvenile offending record came back to haunt him in later life when in 1906, as acting captain of the team, he applied for a licence to run The Prospect Hotel public house in Bolton Road, Bradford and the police revealed that in addition to the theft of fourpence, he also had been fined as a juvenile for 'snowballing' and 'stealing a turnip from a field'. Despite this 'horrendous' offending record the Bradford Magistrates granted him a 'provisional' licence pending further enquiries. He obviously subsequently passed muster because in December of 1906 he was granted the licence. However, he only stayed there for a year leaving in December of 1907
By the time of the 1911 Census, Alex he still resided in the city at 58, Newlands Place, Undercliffe, together with his wife Mary and children Jemima, Jean and Gordon. He continues to be a stonemason working in the electricity industry.
Although Alex lived long enough to see his son Gordon get married in July 1933 and his daughter Jemima in September, the marriage certificates show him as a foreman ganger, he died in Bradford later that year at the young age of 56.
Rugby History
Alex turned to sport to expend his energies and by 1897 he was reported as having been picked to represent Scotland against Wales in a Rugby Union International game in Edinburgh. He is described as," a forward playing for Hawick". Reports of his Rugby Union career are re-inforced in the Southern Reporter newspaper's report of his mother's death in 1906 in which he is described as "Alex Laidlaw of Bradford, formerly of The Greens (nickname of Hawick RU Club), a well-known international forward"
He left Rugby Union behind in 1898 joining Bradford for the 1898/99 Season. His first game was on December 10th of 1898 against Huddersfield, playing at number 9, a position he was to make his in subsequent years.
His early days at Bradford did not always run smooth, with the Hull Daily Mail reporting in July 1899 that, "Laidlaw, the Scottish International forward is back across the border and it has been openly stated that the burly scrimmager will not assist the Park Avenueites on the same terms as last year". He must have negotiated favourable terms as he stayed with the club, playing with the first team up to March of 1908 and then returning to play in the 1910/11 and 1911/12 seasons. He played his last first team game on 13th January 1912, his last game as his first, away to Huddersfield.
Despite not appearing in the first team playing listings since 1912, Alex remains on the club register of players showing up in the 1915/16 records.
Playing Record Bradford Northern
| | | | | |
| --- | --- | --- | --- | --- |
| Season | Appearances | Goals | Tries | Points |
| 1898/99 | 18 | 0 | 2 | 6 |
| 1899/1900 | 33 | 1 | 3 | 11 |
| 1900/01 | 29 | 0 | 4 | 12 |
| 1901/02 | 23 | 0 | 1 | 3 |
| 1902/03 | 30 | 0 | 2 | 6 |
| 1903/04 | 34 | 0 | 3 | 9 |
| 1904/05 | 33 | 1 | 1 | 5 |
| 1905/06 | 36 | 15 | 3 | 39 |
| 1906/07 | 25 | 10 | 1 | 23 |
| 1907/08 | 11 | 1 | 1 | 5 |
| 1910/11 | 25 | 0 | 3 | 9 |
| 1911/12 | 8 | 0 | 0 | 0 |
| Totals | 305 | 28 | 24 | 128 |
Service History
Alexander S Laidlaw returned to his Scottish roots during the First World War serving with The Royal Scots, The Highland Light Infantry and finishing his service as Acting Corporal with the Seaforth Highlanders.
Documents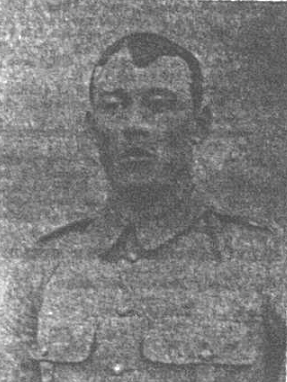 Ralph Laycock
Personal History
Ralph Laycock was born in 1895 in Leeds, he had brown hair and hazel eyes. Sadly his father died when he was just four years old and just a few months later his mother remarried as she had seven young children to look after.
When he was 15 he was living in Bradford with two of his brothers as boarders and was working as a case maker apprentice. That career obviously didn't work out for him as in 1904 when he was almost 19 stated he was a chimney sweep when he enlisted in the militia while a newspaper report described him as a 'well known newsboy'. He had enlisted for 6 years but after only a year he applied to be transferred to the regular army with the West Riding Regiment. He was posted with his regiment to Lichfield before being declared fit to serve in India. He travelled on board HMS Plassy in December 1906 the journey to Sitapur took nearly a month.
Ralph was 5ft 4, 126lb with a 36" chest and physically fit. He seems to have been quite a character although hardworking he did have several cases of being drunk, but not while on duty. His speciality was rugby football.
On 24th May 1908 Ralph Laycock and James Simpson were playing a rugby football match against F company 1st West Riding Regiment in Ranikhet when Ralph was injured.
"I got hold of the ball during the game and collared and thrown to touch by the forwards of the opposing side my left arm was doubled up under my back and I had dislocated it"
It was obviously a bad injury or needed extra treatment as he was in as he was in hospital for 29 days. This led to a military Court of Inquiry – 'for the purpose of hearing the circumstances with the injuries sustained by Private Ralph Laycock West Riding Company – misrepresentation of injury (dislocated shoulder)'
Private James Simpson who also signed for Bradford Northern on his return to England was also playing in the match and gave evidence to support his friend's case. The court decided the
"Private Ralph Laycock sustained the injury whilst playing football and was not on duty at the time. As some form of daily athletics is compulsory for every man in the battalion under my command I would respectfully recommend the provision of a portion of the hospital stoppages."
Rules at the time would have required Ralph to have money docked from his pay to help cover the cost of his hospital treatment as his injury was not connected with his military service. However, this ruling agreed to half his hospital stoppage fees.
He remained in India until he returned home and was transferred to army reserve in March 1914. A few months later he married Lucy Clegg. He lived with his wife Lucy until his death in 1933.
Rugby History
On his return from India, in 1914 he signed for Bradford Northern. He never had the chance to play for the first team because as soon as War was declared he was called to re-join his regiment. On his return, he played his only game for Bradford Northern at stand off (No 6) in a match away against Halifax on 22 Feb 1919 when they lost 22-0.
Playing Record Bradford Northern
| | | | | |
| --- | --- | --- | --- | --- |
| Season | Appearances | Goals | Tries | Total |
| 1918/19 | 1 | 0 | 0 | 0 |
| Totals | 1 | 0 | 0 | 0 |
Service History
He was recalled to The West Riding Regiment at the outbreak of war in 1914. In the battalions first battle in Mons in August 1914 he was captured and taken as a prisoner of War.
Ralph was taken as a prisoner of war just 20 days after Britain declared war.
He was taken to Doberitz, described as 'Germany's Aldershot' situated just outside Berlin where he and many other British servicemen were housed in tents that were full of holes. They had been previously used for sheltering horses. In spring of 1915 some improvements were made with new wooden huts, a hospital for 200 and outdoor washing facilities being covered with a tin roof. Although the food was still reported to be inadequate and the guards often cruel. As time went on camp live evolved and sports, including rugby were played, theatre and concerts put on and a camp magazine created depicting life within the camp.
Ralph sent a postcard home in November 1914 stating he was a prisoner of war in Doberitz and asking for a little comfort in the shape of underclothing
In December 1916 over 2 years since he was first interned he was moved to Dyrotz a newly erected camp 7 miles away. He was only there for 6 months before being transferred to Brandenburg an abandoned terracotta factory, later to Aachen and back to Brandenburg in May 1918. One of his prisoner of war records seems to indicate that he was working on the German railway while prisoner.
When the war ended he was repatriated home on 30 Dec 1918 returning to his home on Muff Street and would have taken part in the Lord Mayors reception for repatriated prisoners of war at the end of February 1919 at Windsor Hall.
He was transferred to Army reserve in March 1919 having served 15 years 25 days in the Army.
Documents
FRED LONGTHORPE
Personal History
Born in 1889 he first appeared in the 1901 census residing with his parents at 86, New Briggate, Laisterdyke, Bradford.
In 1907 at the age of 18 yrs and 4 months he applied to join the Militia. He was accepted as a Militiaman in the County of Yorkshire on a six year contract and also appointed into the Royal Army Medical Corps.
At the time of his enlistment he was 5'10" tall and weighed 150 pounds. On joining he was earning his living as a Greengrocer working for his mother who owned a shop at his home address.
Fred obviously didn't see himself as a medic and in December of 1907 he transferred to the Royal Regiment of Artillery (Royal Garrison Artillery) whilst stationed at Fort Rowner in Gosport.
By 1911 the census reveals that at age 21 he was residing in army barracks with 99th Company Royal Garrison Artillery and his rank was Acting Bombardier.
On 4th of May 1912 Fred was promoted to Bombardier (Corporal) but on the 3rd June 1912 bought himself out of the Army for £18.
On the 8th April 1913 Fred at the age of 23, married Emily Lincoln (35). He was living again at 86, New Briggate and had resumed his occupation as a Fruiterer.
Rugby History
Fred Longthorpe was first registered with Bradford Northern on 17th September 1912 joining the club from Westfield Albion. He was described as an ex-army, wing ¾ with a good physique and a rare turn of speed. He played 4 times on the right wing (No.2) and 3 times on the left wing (No.5) in the 1912/13 season a (total of 7 appearances – no points scored). He made 3 appearances on the right wing in the 1913/14 season (no points scored).
His first game for the club was on the 28th September 1912 at home to Huddersfield and his final game was on 19th November 1913 away again to Huddersfield. Although he didn't play for the first team again after November 1913 he was still registered with the club right up to the 1915/16 season.
Playing Record Bradford Northern
| | | | | |
| --- | --- | --- | --- | --- |
| Season | Appearances | Goals | Tries | Points |
| 1912/13 | 7 | 0 | 0 | 0 |
| 1913/14 | 3 | 0 | 0 | 0 |
| Totals | 10 | 0 | 0 | 0 |
Service History
On 24th June 1916, Fred re-joined the Army with the 2/28 Company of the London Regiment (Artists Rifles) in the rank of private. Although he was deemed to have enlisted on that date he wasn't called to the colours until 30th of December 1916.
On the 27th of June 1917 Fred was commissioned into No.2 Gun Carrying Company, the Heavy Machine Corps as Second Lieutenant. The Heavy Machine Corps was the name originally attributed to what would subsequently become the Tank Corps.
It is likely that Fred's company was involved in fighting on the Somme in the Autumn of 1918. An extract from the Tank Corps Roll of Honour reveals that between the 12th and 18th of September 1918 a major offensive took place in heavy rain on a 17 mile front. This action called the Battle of Havringcourt and Epehy involved the British Fourth and Third Armies together with the First French Army.
A small number of British Tanks accompanied the Infantry and were described as "being of great assistance". In this operation troops penetrated to a depth of 3 miles into German territory through a deep, continuous and well organised defensive belt formed by the old British and German lines and gained practically all their objectives on the whole front. At the close of operations on the 18th 15 British Divisions defeated 20 German Divisions and captured 12,000 prisoners and 100 guns.
Second Lieutenant Fred Longthorpe of the 2nd Tank Corps was wounded in action on 19th September 1918 having received a gunshot wound to the right thigh. He was taken to no.43 Casualty Clearing Station where he subsequently died of wounds on the 20th of September. It is likely that he received his injury and the end of the Tank involvement in the above action.
He is buried in plot E 31 at Thilloy Road Cemetery, Beaulencourt, France.
His widow, Emily received £103 3s and 4d and his soldiers effects from the Army:- a pair of gold cufflinks; a safety pin; a watch and chain (damaged); a metal watch (damaged); 2 gold rings; a silver sovereign case and two pipes. Probate later showed that his total assets amounted to £259 4s 3d
Documents
George "Percy" Lund
Personal History
George Percy Lund (known as Percy) was born on 27 February 1885. His parents Tom and Sarah Lund resided at the time at Rookwood, Bingley and his father's occupation was recorded as Manufacturer.
Lund was educated at Bradford Grammar School and Sevenoaks Grammar School in Kent
In the 1911 Census, G Percy Lund was living with his sister and brother in law at 11, Valley View Grove, Undercliffe, Bradford. He is single and described as a Wool Merchant and an employer.
On the 19th July 1924 George Percy Lund, Wool Merchant married nurse Ella Elizabeth Lamb at St Margaret's Church Ilkley. He was 39 and Ella was 27. She too had also served her country having worked as a nurse in Military Hospitals throughout the war.
Despite his excellent record in World War 1, at 55 years of age, Percy still felt he had more to give and on the 27th of June 1940 he again applied to enrol in the Army Officers Emergency Reserve but on this occasion his offer was politely declined.
On the 22nd February 1957, former Bradford Northern Director and war hero George Percy Lund, died at his home at Tower Farm, Steeton, Keighley. His estate was worth £1055, 14 shillings and a penny.
Rugby History
At the AGM of Bradford Northern RLFC on 20th May 1912 all the existing Directors of the club resigned and 10 were elected. Among these was GP Lund.
Service History
On the 26th January 1915 Percy enlisted in the 4th (Public Schools) Battalion of the Royal Fusiliers as a private. At the time he was shown as residing at San Remo, Balmoral Road, Morecambe.
On 14th November 1915, he was posted to France with the British Expeditionary Force.
He was obviously picked out as officer material and on the 19th May 1916 he was posted as to the 6th Officer Cadet Battalion at Balliol College, Oxford. Having passed out from this course he was granted a commission as temporary 2nd Lieutenant and posted on 17th October 1916 to the Yorkshire Regiment.
Military Cross
He served with distinction throughout the war and on the 10th of January 1918 the London Gazette reported that Temporary 2nd Lieutenant (Acting Captain) GP Lund had been granted the Military Cross. The citation read "For conspicuous gallantry and devotion to duty. He led his company most ably to their objective and on reaching it he assumed command of a mixed lot of men, established them in position and worked hard for the following three days in maintaining his position, setting a fine example to all ranks by his coolness and energy".
On the 26th March 1918 Percy was granted the rank of acting Lieutenant Colonel and commanded the 2nd Battalion of the Yorkshire Regiment (The Green Howards) until 14th of July 1918.
On the 1st of August 1918, he took command of the 6th (Service) Battalion of the Green Howards. This move just 3 months before the end of the war committed Percy to an action in Russia which prolonged the war for him beyond the Armistice in November.
In August 1914 alongside France and Britain, Russia, under Tsar Nicholas II, declared war on the Central Powers. The Russian declaration of war on Germany meant that Germany had to maintain an Eastern Front to protect herself from attack from the east. In March 1917, there was a revolution in Russia, the Tsar's government was deposed and a provisional government formed. This provisional government agreed to continue the fighting on the Eastern Front.
In November 1917, the Bolsheviks (later Soviets) under Lenin took power from the Provisional Government and declared itself neutral, causing a cessation of all hostilities on the Eastern Front, and so the seeds were planted for the Russian Civil War between those loyal to the deposed Tsar's government (the "Whites") and those loyal to the workers' revolution (the "Reds").
As a result, Britain and France were feeling the strain in the west and it was possible that the Germans would reach Paris. They desperately wanted the Eastern Front to be reopened.
The British and French had the idea that they could intervene in the Russian Civil War and align themselves with the pro-monarchist factions in Russia (the "Whites") who with their assistance would overthrow the Bolshevik government (the "Reds") and subsequently re-open hostilities on the Eastern Front.
In August 1918, the British attacked and occupied the city of Archangel at the mouth of the Dvina River, on the White Sea. This was the first time that British troops actively fought with Bolshevik soldiers, over the next weeks chasing them for many miles down the Dvina River. The British and to a lesser extent French, Italians, Serbians, Poles and Americans sent troops to occupy Archangel and Murmansk. The British called their contingent the North Russian Expeditionary Force, comprised mostly of men not fit enough to serve in France.
On the 17th of October 1918, the 6th Battalion of the Yorkshire Regiment commanded by George Percy Lund sailed for Russia, arriving in Archangel on 27th of November, after the war had ended.
The men were working in temperatures as low as 40 degrees centigrade with daylight lasting 3 hours.
The 6th Battalion was detailed to form a mobile company nearly 200 strong. Trained by the Antarctic explorer Sir Ernest Shackleton the company quickly took to snow shoes and skis and baggage was carried on sleighs. Winter clothing, similar to that issued to Polar expeditions, was provided.
Deployed to the south of Archangel the men travelled by train and horse or reindeer drawn sleighs capable of carrying two men. At night, they slept in peasant houses where they were able to get warm and thaw out, their often frozen solid, great coats.
As winter receded the ground turned to impassable mud. The Green Howards fought in small detachments against Bolshevik forces attempting to take Archangel, defending and attacking small isolated posts. During this action 6 officers and 36 other ranks were reported as killed or wounded. As summer came the men were plagued by mosquitoes bringing malaria, making life almost unbearable for those operating in forests.
By the October of 1919 most British troops had been withdrawn from Russia and Lieutenant Colonel George Percy Lund and the rest of the Green Howards finally arrived home. On the 12th of October 1919, he was decommissioned from the Army and returned to his civilian life as a Wool Merchant.
On the 6th of February 1920, the Edinburgh Gazette reported that on the recommendation of the Commander in Chief of the Allied Forces, His Majesty the King had awarded the OBE to Temporary Lieutenant (Acting Lieutenant Colonel) George Percy Lund MC in recognition of valuable services rendered, in connection with, military operations in Archangel, North Russia in 1919.
On the 1st September 1921 Percy was granted the full rank of Lieutenant Colonel.